Mô tả sản phẩm Bộ thu phát wifi ASUS RT-AC5300 Tri-Band Wireless AC5300 Gigabit Router
802.11ac Wi-Fi Protocol
Up to 5334 Mbps Data Throughput
Dual-Band 2.4 GHz / 5.0 GHz Frequencies
4 x 10/100/1000 BaseT Ethernet Ports
8 x Adjustable Antennas
1 x USB 2.0 / 1 x USB 3.0 Ports
3G/4G Data Sharing
Integrated Link Aggregation
Advanced MU-MIMO Technology
AiProtection for Security and Privacy
Tên thiết bị:  Bộ phát wifi ASUS RT-AC5300 Tri-Band Wireless AC5300 Gigabit Router
Model:   RT-AC5300
Thương hiệu:  Asus
Tình trạng: đóng hộp, hàng mới 100%
Hình ảnh thiết bị như hình chụp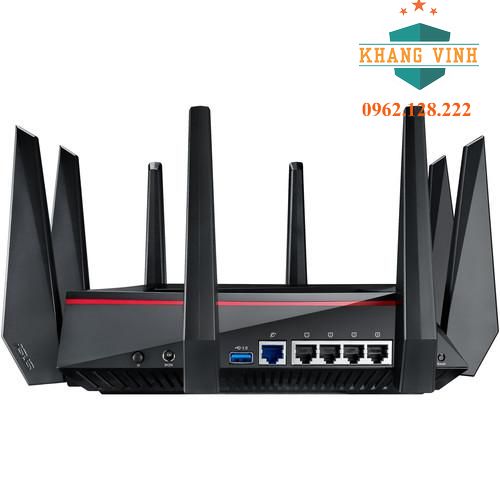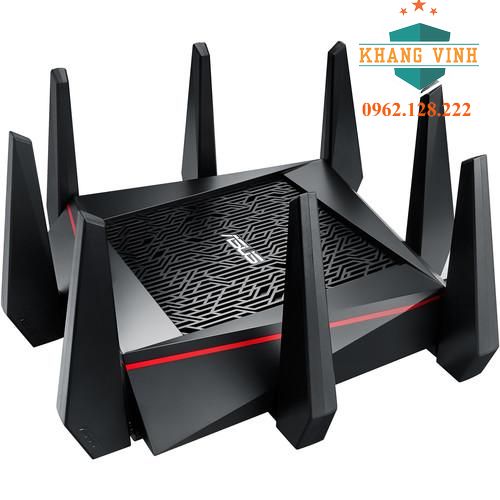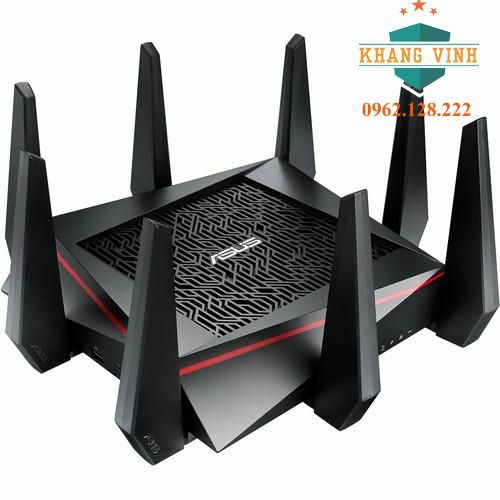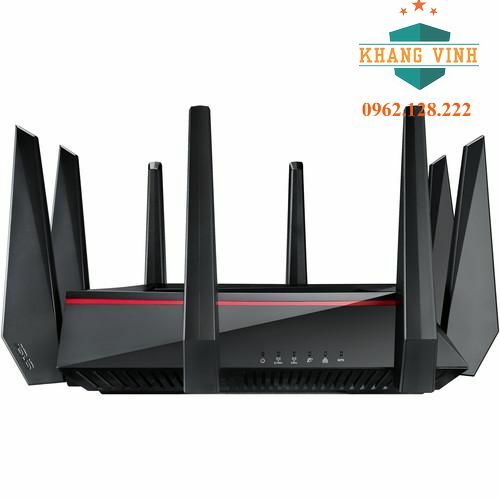 Product Highlights
802.11ac Wi-Fi Protocol
Up to 5334 Mbps Data Throughput
Dual-Band 2.4 GHz / 5.0 GHz Frequencies
4 x 10/100/1000 BaseT Ethernet Ports
8 x Adjustable Antennas
1 x USB 2.0 / 1 x USB 3.0 Ports
3G/4G Data Sharing
Integrated Link Aggregation
Advanced MU-MIMO Technology
AiProtection for Security and Privacy
Overview:
With built-in tri-band functionality, the RT-AC5300 Tri-Band Wireless AC5300 Gigabit Router from ASUS allows users to connect to one 2.4 GHz frequency and two separate 5 GHz frequencies. With two 5 GHz operating frequencies this router can support more users without sacrificing bandwidth or network performance. Along with tri-band connectivity, the RT-AC5300 supports the enhanced 802.11ac networking standard and offers a maximum wireless data throughput of up to 5334 Mbps. This enhanced Wi-Fi connectivity allows for low latency gaming, streaming of 4K multimedia content, downloading of large files, and much more. In addition to the 802.11ac networking standard, this router also supports 802.11a/b/g/n network standards making it easy to connect nearly any Wi-Fi enabled device to your network.
On the outside of the RT-AC5300 you will find eight adjustable antennas featuring AiRadar beamforming technology supporting a transmission distance of up to 5,400 square feet (500 square meters). With beamforming technology the wireless signal is beamed directly to the connected device for a more focused, more reliable connection. This ASUS router not only beams the signals to your devices, it has the ability to support more devices without slowing down thanks to MU-MIMO technology.
If a wired connection is what you desire, you can connect to any of the four Gigabit Ethernet ports. Dedicated link aggregation support provides enhanced data transfer speeds when a super fast Internet connection is required. Inside the RT-5300 you will find 128MB flash memory and 512MB of RAM to ensure the router operates smoothly when being pushed to the max.
NitroQAM Technology
NitroQAM (1024-QAM) technology found on the RT-AC5300 delivers a combined 5334 Mbps Wi-Fi speed, ensuring everyone on your network can enjoy smooth streaming and low-latency online gaming.
Double Gaming Boost
Enjoy low-latency online gaming with boosted internet and home network performance.
Game Accelerator
Ping time and variance are critical technical parameters that affect responsiveness in online gaming, and their values depend heavily on the route game packets take to and from their destination. The Gamers Private Network (GPN) from WTFast automatically performs route optimization, choosing the most efficient route for game packets, resulting in consistently-lower ping time and minimal packet loss. With RT-AC5300 this optimization is free, so users can enjoy the results on virtually every competitive multi-player online game – at no extra cost.
Cross-Platform Compatibility
Network speed impacts every device you game with on every platform you game on. The ASUS RT-AC5300 delivers bandwidth and coverage for a variety of gaming devices, from consoles to PCs to mobile devices, and supports multiple operating systems including Windows, Mac OS and Linux.
Adaptive QoS
Boost your gaming bandwidth with Adaptive QoS (Quality of Service), which allows you to easily prioritize gaming packets and activities. You can even assign full dedicated bandwidth while gaming under gamer solo mode, making RT-AC5300 the perfect ally for low latency gaming.
Free Up PC System Resources During Gameplay
Anti-virus programs and 3rd party applications can consume valuable CPU and memory that could be reallocated to your game. With AiProtection on the RT-AC5300 you can confidently turn off these utilities while you game, ensuring every available drop of resource is spent enhancing your game.
Bandwidth for All
The RT-AC5300 is able to support multiple devices and can even maintain multiple simultaneous Full HD 1080P streams. Beyond content consumption, the RT-AC5300 enables a smarter home, supporting IP cameras, thermostats and a variety of devices you don't even own yet.
Enhanced Wi-Fi Coverage
With a four-transmit, four-receive (4T4R) antenna design, both Wi-Fi range and signal stability improve dramatically. AiRadar beamforming further focuses the Wi-Fi signal on your devices, making your Wi-Fi faster, clearer and stronger.
More Bands Means More Devices
The two separate 5 GHz wireless bands – each with speeds up to 2167 Mbps – and the single 1000 Mbps 2.4 GHz wireless band all work simultaneously. This means you can enjoy virtually lag-free online gaming, smooth 4K video streaming and uninterrupted file downloading on multiple devices connected to your home network.
Powerful Processor, Faster Transfers
The RT-AC5300's 1.4 GHz dual-core processor brings its computational capability to the next level. USB data transfers enjoy up to over 100 MBps speed and the router download/upload speed (WAN-LAN throughput) up to 1800 Mbps.
8X Capacity Wi-Fi with MU-MIMO Technology
MU-MIMO gives every compatible device its own dedicated full-speed Wi-Fi connection, so that multiple devices can connect at the same time without slowing down the network. In fact, RT-AC5300 is able to connect up to 8 MU-MIMO-compatible clients at each device's maximum speed simultaneously, unlike standard single-user MIMO where individual devices have to wait for sequential transmissions.
AiProtection
ASUS AiProtection powered by Trend Micro ensures your online experience is safe and secure. By combining automatic vulnerability detection, malicious site blocking and parental controls, AiProtection keeps everyone safe and sound.
Parental Controls
Monitor and Restrict Internet Activity for Any User Advanced parental controls help you to prevent users from visiting inappropriate websites. You can also restrict the times that each device or guest account can access the internet, by applying scheduled time limits.
Extensive Connectivity Options
With 4 Gigabit LAN ports on RT-AC5300, you can connect up to four Ethernet-compatible devices simultaneously. Non-Wi-Fi devices like your Smart TVs, game consoles, set-top boxes, media players, NAS storage devices and more in your home now can have their own exclusive dedicated ports, making RT-AC5300 your digital home hub.
Your Sharing Center
With built-in USB 3.0 and USB 2.0 ports, you can connect USB-enabled devices, such as external storage drives, printers, or a 3G/4G dongle to your ASUS router and share them conveniently with other users via Wi-Fi. And with USB 3.0, you can enjoy up to 10X faster data transfer speeds.
Link Aggregation, More Devices Go Faster
The RT-AC5300 features Link Aggregation, which combines two teaming LAN ports (the 1st and 2nd port) into one superfast wired connection for up to 2 Gbps using two Gigabit Ethernet cables. With Link Aggregation enabled on your NAS, clients can unlock unprecedented transfer speeds.
Easily Control Your Network
The RT-AC5300 features the enhanced, intuitive ASUSWRT user interface, which gives you easy access to both the 3-step web-based installation process and a wealth of robust advanced options.
Specifications:
Network Standards
IEEE 802.11a
IEEE 802.11b
IEEE 802.11g
IEEE 802.11n
IEEE 802.11ac
IPv4
IPv6
Performance
AC5300 Ultimate AC Performance: 1000+2167+2167 Mbps
Data Rate
802.11a: 6,9,12,18,24,36,48,54 Mbps
802.11b: 1, 2, 5.5, 11 Mbps
802.11g: 6,9,12,18,24,36,48,54 Mbps
802.11n: up to 600 Mbps
802.11ac: up to 1734 Mbps
1024QAM (2.4 GHz): up to 1000 Mbps
1024QAM (5 GHz): up to 2167 Mbps
Antenna
8 x external antennas
Transmit / Receive
MIMO technology
2.4 GHz: 4×4
5 GHz 1: 4×4
5 GHz 2: 4×4
Memory
128 MB Flash
512 MB RAM
Wi-Fi Technology
Beamforming: Standard-based and universal
1024-QAM high data rate
20/40/80 MHz bandwidth
Operating Frequency
1 x 2.4 GHz
1 x 5 GHz
2 x 5 GHz
Encryption
64-bit WEP
128-bit WEP
WPA2-PSK
WPA-PSK
WPA-Enterprise
WPA2-Enterprise
Radius with 802.1x
WPS support
Firewall & Access Control
Firewall: SPI intrusion detection, DoS protection
Access Control: Parental control, Network service filter, URL filter, Port filter
Management
UPnP
IGMP v1/v2/v3
DNS Proxy
DHCP
SNMP
NTP Client
DDNS
Port Trigger
Virtual Server
DMZ
System Event Log
WAN Connection Type
Internet Connection Type: Automatic IP, Static IP, PPPoE (MPPE supported), PPTP, L2TP
Ports
1 x RJ45 for 10/100/1000 BaseT for WAN
4 x RJ45 for 10/100/1000/Gigabits BaseT for LAN
1 x USB 2.0
1 x USB 3.0
Buttons
WPS Button
Reset Button
Power Button
Wireless on/off Button
LED Indicators
1 x Power
1 x WAN
1 x LAN
2 x Wireless
1 x WPS
Power Supply
AC Input: 110~240 V (50~60 Hz)
DC Output: 19 V with max. 3.42 A current
VPN Server
IPSec Pass-Through
PPTP Pass-Through
L2TP Pass-Through
PPTP Server
OpenVPN Server
VPN Client
PPTP client
L2TP client
OpenVPN client
Media Server
Image: Jpeg
Audio: mp3, wma, wav, pcm, mp4, lpcm, ogg
Video: asf, avi, divx, mpeg, mpg, ts, vob, wmv, mkv, mov
Print Server
Multifunctional printer support (Windows only)
LPR protocol support
Dimensions
9.6 x 9.6 x 2.6″ (245 x 245 x 65 mm)
Weight
4 lb (1.8 kg)
Packaging Info
Package Weight
7.45 lb
Box Dimensions (LxWxH)
15.0 x 11.5 x 4.9″
Hãy liên hệ Lắp camera Bình Dương – KVT ngay chúng tôi để nắm thông tin tôt nhất
Điện thoại : 0274.6554.668
Di động     : 0962.128.222
Laptop cũ Bình Dương, Nguồn laptop cũ Bình Dương giá rẻ, Nguồn laptop Gaming cũ giá rẻ
Liên hệ với chúng tôi nếu gặp khó khăn hoặc dùng những câu hỏi thường gặp
In the Box:
ASUS RT-AC5300 Tri-Band Wireless AC5300 Gigabit Router
RJ-45 Cable
Power Adapter
Đặc tính sản phẩm Bộ thu phát wifi ASUS RT-AC5300 Tri-Band Wireless AC5300 Gigabit Router
Thương hiệu

ASUS

SKU

AS082ELAAG6R25VNAMZ-33654116

Dòng sản phẩm

Bộ thu phát wifi Asus

Loại bảo hành

Bằng Tem bảo hành

Thời gian bảo hành

12 tháng
Bộ sản phẩm gồm
In the Box: ASUS RT-AC5300 Tri-Band Wireless AC5300 Gigabit Router RJ-45 Cable Power Adapter.
Đánh giá và nhận xét của Bộ thu phát wifi ASUS RT-AC5300 Tri-Band Wireless AC5300 Gigabit Router